"Hi Stacy!
I have a question that has been subject to many arguments between my mom and I. I have a 2.5 yr old QH filly that I recently started under saddle. She had all ground work done when I started her and she is a very mellow minded girl. My mom believes 2 is too early to start them and is concerned about her joints and I was wondering about your opinion on the best age to start a horse since I have never started a horse or raised a young horse? At the moment I am just doing light trail rides, no longer than 15 minutes on flat ground, with her twice a week. And note that she is around 14.3hh and is a brick house, weighing close to 1000#s. 🙂

Thank you so much in advance for an advice you can give." H. H.
Ugh-oh…I don't think I should get in the middle of a mother daughter thing, lol.
The easiest and best way to be comfortable with it is to ask your vet when he/she is out for another call; shots, etc. They can give you the best advice because they can see and touch the horse.
I have asked this question to many vets over the years and the following points have been made:
there are studies that suggest that some stress is good for healthy bone and muscle growth
it is possible to overwork a horse of any age
listen to the horse, stay slow and steady, if in doubt ask a vet
The problem comes in defining what 'some' stress or 'light' work is, as each human will have a different opinion on it. I have known young horses that were raised on 17,000 acres and others that were raised in five acre pastures and it is easy to see that the amount of 'normal' daily activity varied greatly. Especially in smaller settings another question could be, 'Are we raising equine couch potatoes?'
Jac was two when I started him in the videos and I am watchful when I work with any horse. I look at it very much like my own children. I want  my kids to be active because they need some stress for muscle and bone growth too…but I'm not drilling them for hours every night either.
As for settling the argument, I don't think you will find one clear answer out there and….remember, ask your vet:)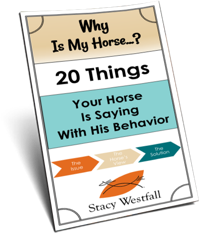 FREE PDF DOWNLOAD
WHY IS MY HORSE...?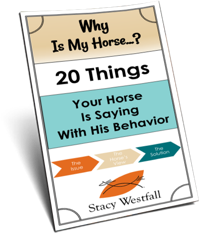 Free PDF Download "Why is my horse...20 things your horse is saying with his behavior"
PDF will be delivered to the email address you enter as will weekly tips from Stacy. Totally free. Unsubscribe anytime.