"After watching you work with Jac my question is; How often do horses surprise you with how intelligent they are?"-Holli H.
The answer is one of these three:
Almost daily
daily
every day that I allow myself to recognize and enjoy it
all of the above
You have discovered the key reason I love training horses!
The longer I am around horses and the more I learn about them…the more they fascinate me. The better I can read their body language, the more I understand them, which leads to more fascination, more study, more understanding and the cycle continues.
There are spots in the Jac episodes that capture perfectly how intelligent horses are. Some are easy for me to feel with the horse but are more difficult to appreciate on video. Others are even easy to see on video, for example Episode 26. The following two episodes contain moments where you can really see how intelligent horses are. The two videos after that are just plain funny!
Episode 26
My favorite three minutes that illustrate this perfectly are found in the beginning of Episode 26. It is easy to see how Jac's choices and actions here are both wrong as well as a fascinating glimpse into how his mind is working.
Episode 14
At 7:45 in this video you can again see Jac making a 'mistake' which is really Jac trying very hard to go to the pool…something he has been rewarded for and is trying to repeat. On the surface it looks like he is being bad, when really, he is trying very hard to be good!
Other horses
If those videos don't convince you of how intelligent horses are then check out the following two videos. While they are not my horses they also perfectly illustrate just how wonderfully intelligent these horses are. Enjoy!
This is the best video of a horse escape…maybe ever!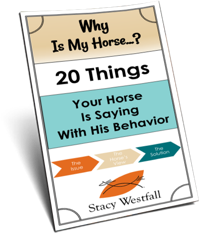 FREE PDF DOWNLOAD
WHY IS MY HORSE...?
No one taught you the skills you need to work through these things.
Riders often encounter self-doubt, fear, anxiety, frustration, and other challenging emotions at the barn. The emotions coursing through your body can add clarity, or can make your cues indistinguishable for your horse.
Learning these skills and begin communicating clearly with your horse.
Click here to learn more.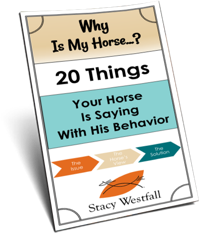 Free PDF Download "Why is my horse...20 things your horse is saying with his behavior"
PDF will be delivered to the email address you enter as will weekly tips from Stacy. Totally free. Unsubscribe anytime.