This week I stayed at a campground for the first time…EVER!
My husband grew up visiting campgrounds, my kids have gone to campgrounds with grandma…but not me.
As with most of my life, my camping experience pretty much only happened because of horses. While I haven't stayed at a campground until this trip, I have spent many nights in a tent at many horse shows. Two of my favorite memories of tent camping are:
My mom cooking blueberry muffins on a BBQ grill (she used a second pan to buffer the heat:)
waking up in the morning with the 'ceiling' of the tent inches from my face…and full of water! It rained all night and the tent wasn't pulled tight…water built up on the top and sagged it all the way down almost to me…whew, close call!
As fun as those memories are though…I'm a bit more fond of my memory foam mattress these days and I never have been able to match my mom's cooking:)
This week may have been my first ever stay at a campground…but I am confident that it will not be my last…because I am very close to joining the Fleetwood Family!
Yep, we are getting a motor home! Watch for upcoming photos and in the future some videos…and maybe some even bigger things.
Maybe a 2015 'Tour' around the country? Clinic tour? Appearances? More horse shows? A trip to the Grand Canyon? All of the above?
Campgrounds may be new to me and this motor home will be an adventure for sure…but one thing hasn't changed-I'm bringing the horses too!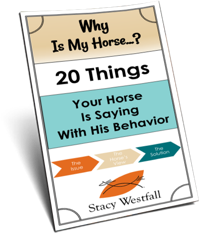 FREE PDF DOWNLOAD
WHY IS MY HORSE...?
No one taught you the skills you need to work through these things.
Riders often encounter self-doubt, fear, anxiety, frustration, and other challenging emotions at the barn. The emotions coursing through your body can add clarity, or can make your cues indistinguishable for your horse.
Learning these skills and begin communicating clearly with your horse.
Click here to learn more.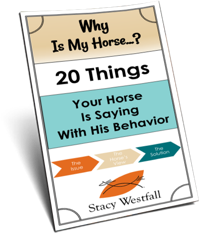 Free PDF Download "Why is my horse...20 things your horse is saying with his behavior"
PDF will be delivered to the email address you enter as will weekly tips from Stacy. Totally free. Unsubscribe anytime.