The results are in and after hundreds of you reported your silly horse stories it is clear that ESCAPE of some form is the clear leader!
Horses were reported to escape from:
pastures
stalls
halters
escaping from being tied
untying others (aiding and abetting escape)
properties…
and even a few who escaped INTO homes…lol.
The following is my favorite horse-escape video, lol. This video really helps humans understand the complexity of the equine mind. Can you imagine what when into this horse discovering this trick? Did he have itchy ears one day? Maybe the halter was loose the first time (notice it is pretty tight) and he just happened to get the rope over the halter….
Either way it is clear that this horse REALLY has this technique down! I love that the human placed the camera…and the horse looked at it a couple of times…then the human brushed and acted 'normal' so the horse might miss the setup. The best part is the ending…they you will really see what he was thinking!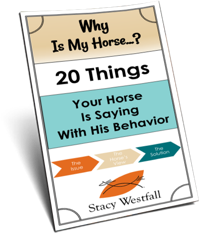 FREE PDF DOWNLOAD
WHY IS MY HORSE...?
No one taught you the skills you need to work through these things.
Riders often encounter self-doubt, fear, anxiety, frustration, and other challenging emotions at the barn. The emotions coursing through your body can add clarity, or can make your cues indistinguishable for your horse.
Learning these skills and begin communicating clearly with your horse.
Click here to learn more.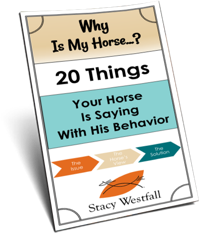 Free PDF Download "Why is my horse...20 things your horse is saying with his behavior"
PDF will be delivered to the email address you enter as will weekly tips from Stacy. Totally free. Unsubscribe anytime.