Stacy, when I watch your preformance with no bridle/saddle, as a God fearing christian women, I see such a pure worship of our creator that it breaks me all over again. I love the lord and horses with all my heart and someday, God willing my dream is to preform freestyle reining to inspirational music as a testimony to the goodness and love of God. Thank you for your obedience. Maureen W., owner, Riding with Purpose
Thank you for this email. My favorite quote is "Preach the Gospel aways, if necessary use words" but sometimes I wonder if it is working. Thanks for the encouragement.
Ride with Faith,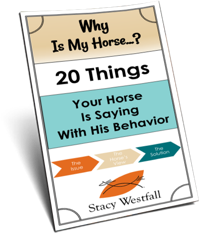 FREE PDF DOWNLOAD
WHY IS MY HORSE...?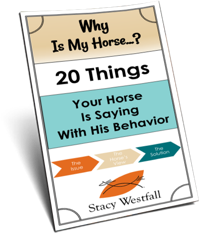 Free PDF Download "Why is my horse...20 things your horse is saying with his behavior"
PDF will be delivered to the email address you enter as will weekly tips from Stacy. Totally free. Unsubscribe anytime.