Hi Stacy, I recently purchased your CD's in preparation to work with my new 5 year old. She has had some ground work but has not been worked with in over a year. Is a fairly quite Mare that is super smart. I have had her about one month now and have been working with her daily for about 3 weeks now. I have noticed in her stall and in the paddock while she is eating hay if I attempt to rub or touch her rear she will strike out alittle. I know this should not be happening. What is the best way to put an end to it. Thank you so much for your spirit, love of animals and making your training available to all. Sincerely, Lynn from Mass
Lynn,
When the horses are eating they can be more territorial. You will need to work on this stuff in a more controlled environment (halter, rope, stick and string) and make the trust/respect very good. For example in the halter maybe her respect/trust is 70%. As that moves closer to 100% you should see improvements in other areas (loose in the stall, etc). Also if you do get to 100% you can then put out a bucket of grain or hay while she is in the halter and work on controlling her in that environment (let her eat, move her away, let her come back).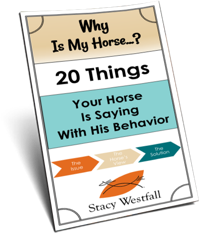 FREE PDF DOWNLOAD
WHY IS MY HORSE...?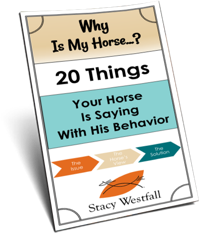 Free PDF Download "Why is my horse...20 things your horse is saying with his behavior"
PDF will be delivered to the email address you enter as will weekly tips from Stacy. Totally free. Unsubscribe anytime.