I love teaching horses and teaching people. So giving clinics seems like a win-win…and for the most part it is.
The difficult thing for me is typically the group size. I like small groups. I want to know your name and your horses name and I like to take my time.
There are two issues with this;
the smaller the group the higher the cost per person- unless you come to me I have fuel or airfare, hotel, eating out, etc which is still lower than everyone traveling to me but still it raises the price.
Retention rate; I give a lot of info…and there is a limit to how much anyone (or horse) can absorb in one session. Eight hours alone with me teaching might sound good…but your brain will start to get fried after 2-3 hours…I have seen it happen!
So maybe there is such a thing as too small a group. Especially when I get feedback that people like watching other people get instruction and ask questions.
I asked and I explained…now it is your turn!
Please leave your comments and ideas about what is ideal in a clinic setting; things you have loved or hated (leave out names please) and while you are at it…go ahead and throw in prices.
How many days?
How big of a group?
Is the group divided during the day?
Do you like specific topics during the day or leave it open to what comes up?
Location; arena setting? Trail? Other?
Is watching almost as beneficial as riding?
Suggested horse and rider price-
Suggested auditor (spectator) price-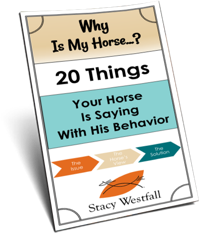 FREE PDF DOWNLOAD
WHY IS MY HORSE...?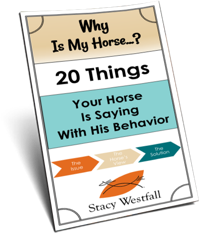 Free PDF Download "Why is my horse...20 things your horse is saying with his behavior"
PDF will be delivered to the email address you enter as will weekly tips from Stacy. Totally free. Unsubscribe anytime.