It would seem that my 'time zone change at home' project may have worked!
For about 12 days before we left home,
I started shifting my sleep/awake times. Most notably I shifted my coffee drinking times. Just before leaving I was drinking my 'morning' coffee at 3 pm and my 'afternoon' coffee at 9 pm.
It seems to have worked!
Of course, this meant that upon arriving here in Melbourne, Australia I had to keep the same coffee schedule. I learned online that Melbourne is world famous for its coffee so we hit the streets and bought coffee at the first shop we came to.
I couldn't have planned it any better if I had tried. Later when I did a specific search for 'best coffee in Melbourne' guess what popped up as #1…yep, Axil Coffee Roasters!
When I travel for work I know I will be seeing horses so I try to stretch myself and look around a bit. While still at home another helpful google search listed the #1 thing to do was drink the coffee and #2 was to see the street art.
Coffee in hand we began walking and…yep, without a map or directions we managed to quickly spy a very painted street. It turned out to be AC/DC street which is one of the most famous streets to visit. If I'm making it sound really easy to have a great experience in Melbourne, Australia that is because it really has been easy.
I do have to admit that although today isn't an official 'horse day' I still managed to see them. One horse was pulling a carriage near a park and the other was a digital horse running in a museum. And one on a magazine. And one on a book. And a few on…lol, I'm not great at avoiding all things horsey:)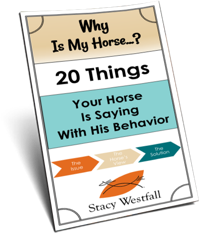 FREE PDF DOWNLOAD
WHY IS MY HORSE...?
No one taught you the skills you need to work through these things.
Riders often encounter self-doubt, fear, anxiety, frustration, and other challenging emotions at the barn. The emotions coursing through your body can add clarity, or can make your cues indistinguishable for your horse.
Learning these skills and begin communicating clearly with your horse.
Click here to learn more.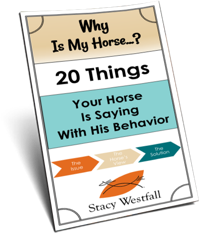 Free PDF Download "Why is my horse...20 things your horse is saying with his behavior"
PDF will be delivered to the email address you enter as will weekly tips from Stacy. Totally free. Unsubscribe anytime.