Owning horses is a lifestyle choice. Feeding, cleaning and caring for them is often considered by those around us (who don't own horses) to look a lot like a full-time job. Or at least a very full part time job.
I admit, it is.
We choose it and we love it.
Which is why leaving the horses at home to travel is always difficult. They are not 'just' horses. Unlike asking someone to water the house plants, these guys have names. Likes. Dislikes. Quirks.
Leaving them behind is the hardest part of traveling. I know I have a great team of people caring for them. That isn't the point. The point is that I LIKE being with them.
It is the lifestyle I choose.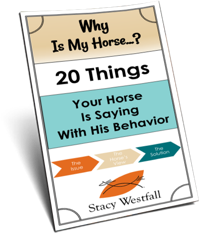 FREE PDF DOWNLOAD
WHY IS MY HORSE...?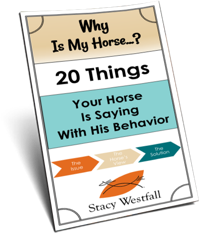 Free PDF Download "Why is my horse...20 things your horse is saying with his behavior"
PDF will be delivered to the email address you enter as will weekly tips from Stacy. Totally free. Unsubscribe anytime.