Watch the video: Do you work your horse hard enough to raise his breathing rate? If you want better results maybe you should.
Using a training cycle means that you, the rider, has an overall plan. This plan involves having some days that are harder than others. Often times if the rider doesn't make this plan…the horse will by becoming difficult. Many horses would improve if they had some more challenging rides where they were required to work hard enough to raise their breathing rate. Several hard workouts makes both the horse and the rider appreciate the 'easier' days.
The concept of cycles applies not only to individual workouts, but to overall training plans over weeks and months.  For example, pertaining to a weekly plan, Monday will be an easier day than Tuesday, Wednesday.  And Thursday may be the peak of the week, and Friday will be easier — similar to Monday or Tuesday. The weekend can be used as recovery time, as time needs to be allowed for the body to rest and rebuild.
On an even bigger scale, looking at a month or several months, the training should have cycles in which week one is easier than week two, three and four but then week five might head back down the scale.
A horse that is ridden several times a week, with a routine that never changes, will often become more difficult because they have reached a level of fitness and are not being challenged either physically or mentally.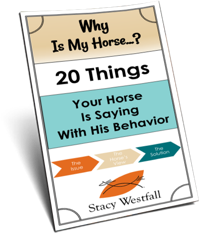 FREE PDF DOWNLOAD
WHY IS MY HORSE...?
No one taught you the skills you need to work through these things.
Riders often encounter self-doubt, fear, anxiety, frustration, and other challenging emotions at the barn. The emotions coursing through your body can add clarity, or can make your cues indistinguishable for your horse.
Learning these skills and begin communicating clearly with your horse.
Click here to learn more.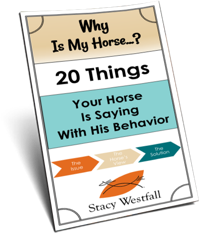 Free PDF Download "Why is my horse...20 things your horse is saying with his behavior"
PDF will be delivered to the email address you enter as will weekly tips from Stacy. Totally free. Unsubscribe anytime.