Living in Texas has given us the opportunity to visit some big ranches. One thing that stood out to me was that with so many mares foaling, the mares are pretty much left to foal on their own. Ranchers ride out in the morning and do a head count making note of the new foals.
This operation is almost the opposite of the foaling experiences I have had. I was present for the birth of most of the foals we raised and the one we missed was still soaking wet when we found him.
Are we over managing the mares when we watch so closely? Is it better to 'let nature take its course'?
I was reminded of this again today because of a litter of kittens.
The barn cat has been hanging out on our porch and has looked like it has swallowed a small mellon…so we were pretty sure kittens were on the way. The cat is very, very sweet but maybe not the smartest cat around. Walking down our outside stairs is dangerous for both cat and human as she insists on attempting to rub your legs on each step.
There are barn dogs around too and I have worried about her selecting a safe spot to have her kittens. Will she be smart enough not to have them on my doorstep?
Thankfully she made great use of a corner feeder in an empty horse stall. It is close by and yet well protected from the dogs.
Again, I find myself wanting to take her food, water, secure the doors and take other precautions. I can already feel myself wanting to protect the kittens from potential harm. What is your take on the meaning of 'let nature take its course'?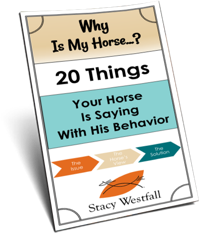 FREE PDF DOWNLOAD
WHY IS MY HORSE...?
No one taught you the skills you need to work through these things.
Riders often encounter self-doubt, fear, anxiety, frustration, and other challenging emotions at the barn. The emotions coursing through your body can add clarity, or can make your cues indistinguishable for your horse.
Learning these skills and begin communicating clearly with your horse.
Click here to learn more.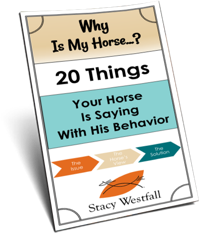 Free PDF Download "Why is my horse...20 things your horse is saying with his behavior"
PDF will be delivered to the email address you enter as will weekly tips from Stacy. Totally free. Unsubscribe anytime.