The best part of being in the 'public eye' is the amazing people I get to meet. Sometimes that is face to face but often it is over the internet. Take for example Erin, a woman who emailed me about horses…and cancer.
"Hey Stacy, you won't know me from Adam, but I wanted to drop you a note as I feel a kindred connection to you. Like many folks I was first introduced to you through the freestyle video of you and Roxy. Actually, that might not be quite true. I know when I saw it I recognized your name even then, so I must've heard of you before. Anyway, I first saw the video around 2009, 3 years after my own dad died. It didn't occur to me until I sat down to write this that our dads died within a few months of each other. I don't know exactly how old you are but I was 24 when my dad died and you would have been young as well. So immediately I was struck with the sense of you being a kindred spirit. Fast forward a few years and after a bout with cancer in 2011 I finally decide to take my love of horses seriously (something I should have done long ago) and move in the direction of pitching my office job (why did I ever go that route in the first place). My instructor at the time was the first instructor I ever felt helped me become a better horseman. She was very influenced by Pat Parelli so of course I latched on to that. It immediately made sense to me. That relationship with a horse I'd been striving to achieve, all the pieces finally fell into place. A few months ago I circled back around to you and your blog. One of the posts I saw early on was the one where you talk about being tired of tip-toeing around your faith because you're afraid of offending people. As a fellow believer who was also just starting to feel the same way I again felt the kindred connection. Ever since then I have been fascinated watching your progress with Jac. I come from the world of Morgan show horses, so the disciplines aren't the same, but the principles are universal. After every video I see something new and immediately want to go out and try it myself. At first I did just that, but now I'm back in my battle with cancer. I have full peace whatever the outcome. I will either be reunited with my dad or I will be blessed with more time with my mom and sister. In the meantime I want you to know I LOVE reading your posts. They're a bright spot in my quiet days and inspire me for what I hope to be able to do again if I can beat this disease. Your sister in Christ, Erin"
My response:
Wow, Erin, thank you for the email. Thank you for taking the time to write to me. Would you be comfortable with me sharing this as a blog sometime? If not, that is fine. I just think some people could be inspired by it.
I am glad you have peace either way. I will pray you have some more time here…we will have forever on the other side! I love Rich Mullens song, http://youtu.be/oh1Y-eIu99Q
Erins reply:
Thanks for replying. I'm not really sure why I wrote you, I just felt compelled. I didn't necessarily expect a response, but I'm very glad to "meet" you. Hopefully one of these days I'll be able to introduce myself in person. If not, I'll catch you on the flipside 🙂

Oh Rich, one of the greatest modern lyricists in my opinion. His song "If I Stand" is one of my all-time favorites. I hadn't heard this one before, I'll have to let it sink in for a few days 🙂

I don't mind at all if you share. If you want more quotables or want to follow my progress, a few friends started a blog for me with my original diagnosis in 2011. You can read or follow it here if you want. It's mostly a way to keep friends updated so I don't have to answer the same questions 50 times. One resolution I made this time though was to be more vocal about my spiritual perspective. Here are a few posts that people have seemed very affected by:
YOU MUST FOLLOW THE LINK AND READ THE POST…if you want the rest of this blog to make any sense. Have tissues ready.
It begins: "2 years and 6 months ago I was given 2 years to live…." 
http://prayforerinbriggs.wordpress.com/2014/03/05/this-afternoon/
Then I read this blog before writing back to Erin:
http://prayforerinbriggs.wordpress.com/2014/04/09/perspective/
Erin,
I'm sitting here crying! Your blogs are amazing. It makes me marvel at your strength; I like to think I would react like that but doubt creeps in.
It is funny you say that 'If I Stand' is one of your all time favorites. It is my favorite Rich Mullens song. Although I felt lead to share the other with you. Really. Humanly I wanted to share 'Stand' because it is my favorite. I find strange peace in the other though. I have told my husband I want it played at my funeral but he doesn't like to talk about that. I also want 'further up and further in' The Last Battle, C.S. Lewis on my headstone….I'm kinda detail oriented:)
Ride with Faith,
Stacy Westfall
If you have read to this point, I hope you were as touched by Erin's story as I was. If you were, please go write her a note and share her blog posts. I made use of the donate button also:)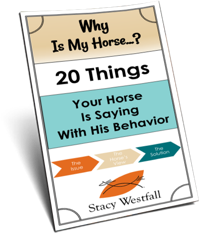 FREE PDF DOWNLOAD
WHY IS MY HORSE...?
No one taught you the skills you need to work through these things.
Riders often encounter self-doubt, fear, anxiety, frustration, and other challenging emotions at the barn. The emotions coursing through your body can add clarity, or can make your cues indistinguishable for your horse.
Learning these skills and begin communicating clearly with your horse.
Click here to learn more.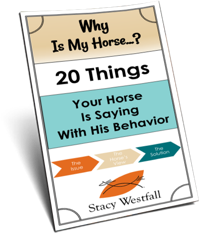 Free PDF Download "Why is my horse...20 things your horse is saying with his behavior"
PDF will be delivered to the email address you enter as will weekly tips from Stacy. Totally free. Unsubscribe anytime.