"HI Stacy-What are your thoughts on training a horse with a specific plan in mind. I have been working with a trainer for my OTTB and she doesn't have a plan for her training. I don't usually know what she's working on and in turn don't know specifically what he will learn or how long this whole process may take. I understand some horses learn quicker than others, etc. so I don't expect a rigid schedule but feel there should be a plan. She thinks her 'method' is typical. From watching you and other natural horsemanship type trainers, I'm reconsidering where my horse needs to be. Thanks for any feedback. Also, I have been loved the Jac videos! What a great series!"-Monica
Years ago my husband and I trained horses for the public. We accepted horses that would eventually have a future as trail horses, western pleasure, team penning, all around, and reining. Basically, if you had a horse and wanted us to train it we would.
Training for the public means having good communication with the horse and the owner. Goals were always discussed. Each horse is an individual but I did develop a feel for the timing after training hundreds of horses for people. I told people that in general; if the horse is unbroken the first three months it doesn't matter to me what the horse will 'be' in the end…the foundation is the same. I started a future western pleasure horse using the same methods I would use starting a future barrel racing horse.
After or around the three month mark the direction mattered. A lot.
As you can imagine the training, at some point, heads down a different path for the barrel horse vs the western pleasure horse. Same foundation-different end.
I always kept people informed on my opinion of the horses natural talents as they were discovered. You might tell me you want a barrel horse but it is also my job as the trainer to tell you if your horse really doesn't want to run. The horse can still be trained down that road because an entry level barrel racer doesn't need a horse that has the heart and soul of a running horse-they just need a solid trained horse.
I don't know how long your horse has been in training but at some point it is worth talking about the future of the horse. You should express your desire, the trainer should add her opinion and the horse should have the ultimate say.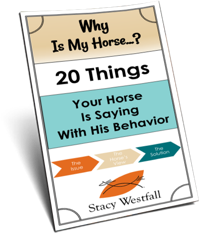 FREE PDF DOWNLOAD
WHY IS MY HORSE...?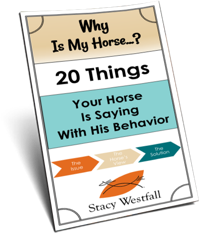 Free PDF Download "Why is my horse...20 things your horse is saying with his behavior"
PDF will be delivered to the email address you enter as will weekly tips from Stacy. Totally free. Unsubscribe anytime.