When we sold our home, a year ago this February, the hardest thing was cutting down on the amount of 'stuff' that our family of five had. It clearly must have been a mindset issue because we have now been living in a motorhome for four months with room to spare. Seriously, I have empty totes under the storage bin that I thought I needed and haven't filled yet.
Here are some questions (and answers) that people have asked after finding out we were living in a motorhome:
1) I love my family…but I don't think I could be cooped up together 24-7…. what about privacy??
Thankfully we are not cooped up 24-7 with each other. Part of living in the motorhome has been traveling to new (and warmer) places. In the morning the horse chores need to be done and school starts up. We are all in and out of the motorhome, sometimes for the horses, sometimes to go hiking and other times for school projects. We are also camping in areas where there are other people. Many RV parks have a recreation room, a swimming pool or another type of gathering place where people gather and some or all of us will wander in and out of there. With all the moving around there are as many times that I am alone in the motorhome as I was when we lived in our house.
2) Favorite food to eat/make…favorite recipe you make?
My favorite food to eat…yikes, thats tough. Pizza is my go to. Did you know I had pizza in the hospital after the birth of each of my children? Papa John's with Green Pepper & Onions. I love great Greek food or Mediterranean food too…I could go on but I better stop there.
I don't love to make pizza though so I more often make: spaghetti and garlic bread, pasta salad, tacos and I'm currently into soups.
3) So glad you asked that question..it's been on my mind about her food/ meals situation…
One of the biggest changes is that when we left Ohio in November we chose to pull our horse trailer and not bring a run-around vehicle. This means that we don't go out to eat as often as we did before. It is amazing how much money we have saved as a side effect of this…especially because I can't run to the coffee shop for a latte. On the positive side, this has driven me to learn how to make my own lattes at home! I think that might be another video….
4) I'm assuming you homeschool your kids?
Yes. We had homeschooled in the past and when we listed our home for sale, a year and a half before it sold, we began homeschooling again.
5) How do you transport the horses?  Does the Motorhome pull the horse trailer?
Yes, we are currently towing a 3 horse bumper pull with the motorhome. This allows us to keep the front stall full of hay and still have room for the two horses that are traveling with us. We refill the hay and grain as we travel and also carry some hay cubes.
If you have additional questions about our motorhome adventure please leave them in the comments below and I will try to work them into an upcoming blog and/or video.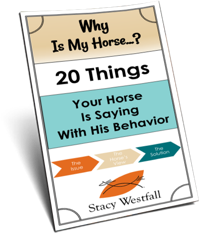 FREE PDF DOWNLOAD
WHY IS MY HORSE...?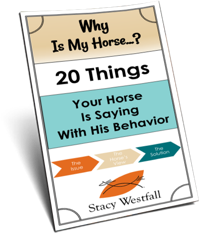 Free PDF Download "Why is my horse...20 things your horse is saying with his behavior"
PDF will be delivered to the email address you enter as will weekly tips from Stacy. Totally free. Unsubscribe anytime.