Get your tissues ready. Most of you know that I love mini horses but this story would be wonderful even if it wasn't a mini.
This is the story of a girl, Aimee Schulz, and her one-eyed mini Lulu. Aimee found Lulu in a group of 45 other minis that had been rescued from an owner who had starved and abused them. Well written and in her own words Aimee tells of the transformation….oops, I'm not going to tell you the whole story!
If you want to read the full story (and you should) follow this link to http://www.horsecollaborative.com/perfect-imperfections/. I didn't get permission to reprint the story here so trust me and follow this link.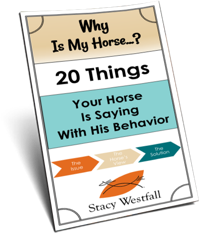 FREE PDF DOWNLOAD
WHY IS MY HORSE...?
Free PDF Download "Where is my horse...?"
20 things your horse is saying with his behavior.