As soon as I read the email I knew I was going to open the attachment:
"I remembered one of Stacy's blogs that talked about "terrible horse pictures" especially when you take those "head on shots".  Well this is certainly one of those!"
I LOVE IT!
You can tell that Gus is clearly enjoying his 'horsie' photo with his owner.
After seeing the photo I also knew that I was going to try this. I'm terrible at selfies BUT add a horse and I'm fine with looking terrible, especially if it turns out funny.
Lets start a movement! Take a selfie, um, or should I say horsie with your horse and post it. Remember to use the #horsie when you upload, tag or post.
I can't wait to see your #horsie online!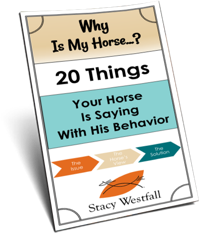 FREE PDF DOWNLOAD
WHY IS MY HORSE...?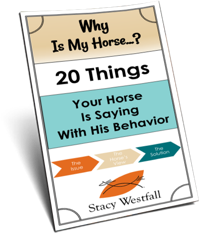 Free PDF Download "Why is my horse...20 things your horse is saying with his behavior"
PDF will be delivered to the email address you enter as will weekly tips from Stacy. Totally free. Unsubscribe anytime.