Everyone is unique, horse and human. When I go to a chiropractor they tell me, "Make an appointment for next week" but they tell my husband to make an appointment in a few months. I have tested this with several different chiropractors over the years and have come to the conclusion that my husband just doesn't have the need for as much chiropractic work as I do.
I have used equine chiropractors because I see results with chiropractic myself. Does that mean that every horse is in need of chiropractic? Maybe not. Hopefully they have a spine that is more like my husbands and less like mine. I actually use a spin of what I learned from my human chiropractic experiences to evaluate my horse chiropractor; if they tell me all the horses have problems, I get suspicious.
My first and most dramatic experience with chiropractic happened when I was a teen. My mom's horse had struggled with soundness issues, refused to take one lead and then took a turn for the worse one winter. He was very stiff almost to the point of refusing to move. My mom had several vets look at him and they all agreed it was arthritis and there was nothing that could be done. As a last resort my mom found an equine chiropractor (this was years ago when they weren't common). After the first visit the horse TROTTED out of the barn…the same horse that was barely walking the day before. I have seen equine chiropractic make dramatic changes in a horse but the horse was dramatically lame. The major improvement was possible because there was a major problem.
Most of my horses don't have major problems and I am using chiropractic for fine tuning or prevention. I have used acupuncture on my horse once and found some improvement. I am happy that my horses don't have extreme issues but it does make it more difficult to evaluate the results.
Have you used chiropractic or acupuncture with your horse? Please share your story so we can all learn from it.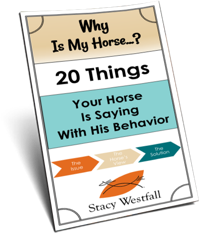 FREE PDF DOWNLOAD
WHY IS MY HORSE...?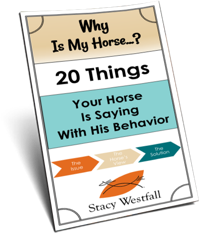 Free PDF Download "Why is my horse...20 things your horse is saying with his behavior"
PDF will be delivered to the email address you enter as will weekly tips from Stacy. Totally free. Unsubscribe anytime.