As we travel around the southwest this winter we have been staying at different places where we can both keep our horses and hook up our motor home. This time we stopped at the 'Lost Cowboy Ranch' in Scottsdale, Arizona. The owners, Brian and Susan Bowers, were great hosts and gave us great advice about where to ride. We were even able to work our schedules out so that we could go on some rides together.
In this video we loaded up and drove to the McDowell Mountain Regional Park and then rode the horses all the way home. We could have ridden off the property to the park and back…it just would have made for a longer ride. The park trails were very well marked, not only with their names but even with the road numbers. As we headed home we followed signs for 158th Street and when we left the park we road to 160th, which is where Lost Cowboy Ranch is.
The landscape was unique and I loved riding among the giant saguaro cactus. The desert is much more interesting than I had imagined it to be. The variety of plants, birds, rabbits and other things that live there is fascinating and at this time of year (January) the weather can't be beat.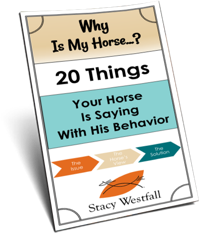 FREE PDF DOWNLOAD
WHY IS MY HORSE...?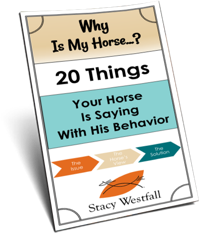 Free PDF Download "Why is my horse...20 things your horse is saying with his behavior"
PDF will be delivered to the email address you enter as will weekly tips from Stacy. Totally free. Unsubscribe anytime.