My friend bought this filly out of a pasture and she had not been haltered or handled. There are many ways that we could have chosen to work with this filly but we chose this method because it was going to be pretty low stress compared to some other options. I like thinking outside the box and although I had never been in a situation where I needed to do this exactly I was able to take knowledge of horses and create this situation.
It is too bad that I did not think to grab the video camera before this point. Because I didn't think of it, you missed me teaching her to move up to the corner of the stall as well as the first touch and the haltering.
We are always learning more. What stage of learning are you at with horses? Are you still learning to read the basics of their body language? Nothing wrong with that! Or are you now able to be creative?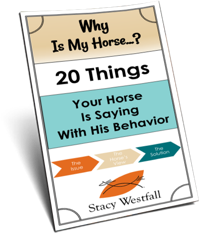 FREE PDF DOWNLOAD
WHY IS MY HORSE...?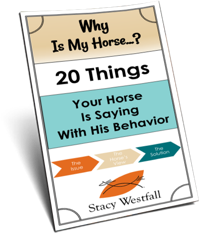 Free PDF Download "Why is my horse...20 things your horse is saying with his behavior"
PDF will be delivered to the email address you enter as will weekly tips from Stacy. Totally free. Unsubscribe anytime.