Are you a task/goal oriented person or more of a relational person? I really enjoy studying people and I am taking a course on personality profiles. There are reasons we do well in different areas of life. Some of us are goal setters and are determined to reach those goals.
Other of us are relational and having people like us and getting along are more important to us. How are you getting int he way of your hopes or dreams? Are you afraid of being rejected or losing your security? Or are you afraid of getting too close to people and getting taken advantage of or being criticized?
How is your fear holding you back in life?  —-Jesse Westfall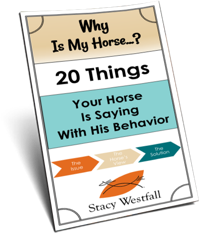 FREE PDF DOWNLOAD
WHY IS MY HORSE...?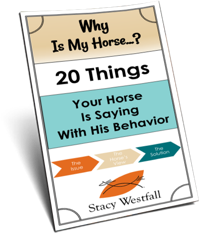 Free PDF Download "Why is my horse...20 things your horse is saying with his behavior"
PDF will be delivered to the email address you enter as will weekly tips from Stacy. Totally free. Unsubscribe anytime.