Seriously, setting goals works!
This trophy just arrived in the mail from the AQHA!
In 2019 when I decided to show at the Western Dressage World Show in October…I made that decision and began planning in January.
That planning allowed me to see that showing in classical dressage would help my western dressage.
That realization got me looking into other possible connections. I realized that the AQHA offered prizes for American Quarter Horses showing in traditional dressage. I was showing quarter horses so I filled out the nomination form.
Without going to any additional shows or paying any additional fees beyond the nomination form…Willow won these awards.
A little planning can go a LONG way.
My latest podcast, Episode 113: How to calendar your horse goals explains exactly how I do this…so you can do it too!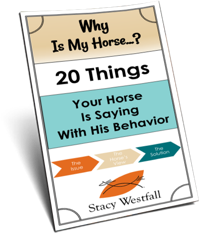 FREE PDF DOWNLOAD
WHY IS MY HORSE...?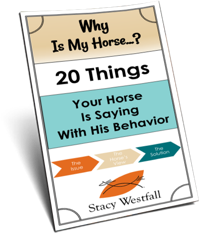 Free PDF Download "Why is my horse...20 things your horse is saying with his behavior"
PDF will be delivered to the email address you enter as will weekly tips from Stacy. Totally free. Unsubscribe anytime.