People have often looked to horses for inspiration. Most recently California Chrome was the horse with a story, the one the nation was talking about but he wasn't the first.
I stumbled onto the book at Barnes and Noble because there was a horse on the cover. Then the title, 'The Eighty-Dollar Champion: Snowman, The Horse That Inspired a Nation' had me hooked.
The book was written by Elizabeth Letts who came across an unusual photo of a horse, Snowman, jumping over another horse. Her search to find this mystery horse lead her to the even more unbelievable story. She interviewed many of the people in the story and researched the rest.
The shortest version of the story is that Harry de Leyer rescues a horse from the killer truck at an auction. The sweet gelding grows strong and becomes a great lesson horse but it appears will never be more that that. Harry sells Snowman to a doctor for his young son…only Snowman had other ideas. He begins jumping fences to return to Harry.
Night after night Snowman jumped the fences and returned to Harry. In a last attempt to keep Snowman at the doctors Harry tied a lead rope to a tire to prevent jumping…but in the morning Snowman, the tire and a fence board. Maybe the horse can jump…
From the killer truck to Madison Square Garden the author was correct in thinking she had found a story worth telling. She also manages to weave plenty of history about show jumping, WWII, and the 1950's into the story.
As usual my favorite parts were in the barn; Snowman jumping his way home, giving lessons, swimming and even his final walk with Harry. If you find yourself looking for a inspirational-horse-history book take a look at this one. I downloaded it on my Nook but I also saw it in hard copy in the store. You can view the book on Amazon by clicking here.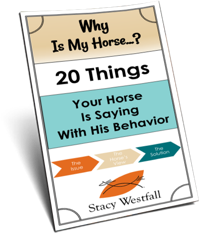 FREE PDF DOWNLOAD
WHY IS MY HORSE...?
No one taught you the skills you need to work through these things.
Riders often encounter self-doubt, fear, anxiety, frustration, and other challenging emotions at the barn. The emotions coursing through your body can add clarity, or can make your cues indistinguishable for your horse.
Learning these skills and begin communicating clearly with your horse.
Click here to learn more.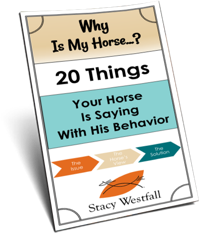 Free PDF Download "Why is my horse...20 things your horse is saying with his behavior"
PDF will be delivered to the email address you enter as will weekly tips from Stacy. Totally free. Unsubscribe anytime.