I think I may have found my favorite oil painting of horses.
Painted by Frederic Remington it is titled 'A Dash for the Timber' and is on display at the Amon Carter Museum of American Art in Fort Worth Texas.
The was established by Amon G. Carter Sr. and features many paintings and sculpture by Frederic Remington and Charles M. Russell that Mr. Carter personally owned. Many other amazing works are also on display…too many to list.
One of the best parts is; IT IS TOTALLY FREE! There is no admission fee and if you time it right you can even catch a free tour.
Photos and reprints don't do justice to the art work on display here.
The museum doesn't tell the value of many of the works but the few that they do mention are valued at 10-12 million dollars…and I have no doubt that those are NOT the most valuable pieces on display.
To stand in front of an oil painting that is well over 100 years old with not even a piece of glass to separate you from the canvas is almost unsettling.
To walk through the museum is also an interesting reminder of how much we have learned about horses over time. Many of the older paintings depict horses with front legs stretched forward and hind legs stretched back. In 1886 photos were taken that showed the true movement of horses changing how horses were painted from that time forward.
Remington loved painting horses and another of my favorites, shown below, is a black and white painting which I found unique.
If you find yourself in Fort Worth…or if you schedule a trip, make sure you stop by the Amon Carter and check it out.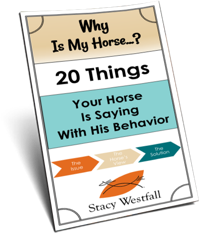 FREE PDF DOWNLOAD
WHY IS MY HORSE...?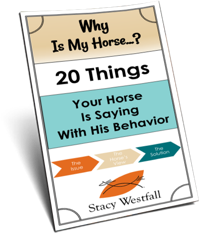 Free PDF Download "Why is my horse...20 things your horse is saying with his behavior"
PDF will be delivered to the email address you enter as will weekly tips from Stacy. Totally free. Unsubscribe anytime.