A comment came through on my blog this week in reference to Episode 3.
"While I'm far behind in the series (trying to catch up as I can!) I'm actually re-watching these beginning episodes. I recently got a new horse and while he's 9 years old and has TONS of trail riding time, I've noticed that if something startles him, he whips backward and pulls — regardless of being tied/being held, etc. Not very respectful of pressure. Interestingly enough, you say at ~4:39 on the video that "that's why I can't tie him, because when he feels pressure on the halter he pulls back." I'm wondering just how many horses ACTUALLY learn to give to the pressure on a halter?     Also, how often do people like me buy an older horse that's "been there done that" but have to go back to baby-beginner-basics and teach things like giving to pressure?-Sarah B."
It is my opinion that everyone should go back…but few do.The basics are where most problems stem from.
Have you ever tried to lead a puppy on a leash for the first time? Have you noticed that the first reaction to pressure on the leash is rarely to give to the pressure? Sometimes the puppy may coincidentally follow you but for the most part he must be taught how to respond correctly. Some dogs are thoroughly trained and others have spotty training and the same is true for horses.
Horses must be taught to give to pressure. This is usually done when they are young but just like dogs, they will likely need refresher courses throughout their lifetime. Much like a dog, the stronger the training has been at one point, the better the training will stick with the horse.
If the horse has a strong foundation, if he really knows the correct answers…then the refresher goes fast. If you find a weakness, then you are improving the horse. I go back over the basics every winter…even with my top horses.
This question came after Episode 10.
"Hi Stacy, the last pull when Jac response to your pull (6:50), do you redo this again or do you just do it one time before you tie him up? -Melanie C."
I repeat the lesson over and over again before tying him for the first time. In episode 10 the pull and release shown at 6:50 was the end of that lesson for that day. I like to give horses time to absorb the lesson before I repeat it. Although it was the end of the lesson for that day, I did not tie Jac after it.
If you watch Episode 13 at 13:35 I am repeating the leading lesson again. I explain during this time that the distraction of the bit has caused Jac to regress in this lesson. You can see here that Jac still has not mastered this leading lesson.
It is also important to notice the theory here; that repeating previous concepts while introducing new concepts can make the training stronger. The example here is that the previous concept of leading was repeated as the horse was learning a new lesson, wearing the bit. Can you think of other examples in training where repeating a previous concept while introducing a new one can be beneficial?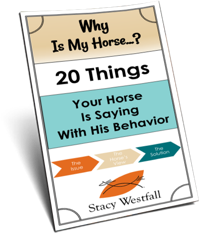 FREE PDF DOWNLOAD
WHY IS MY HORSE...?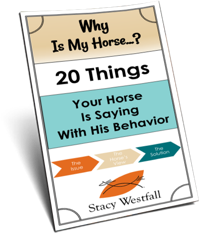 Free PDF Download "Why is my horse...20 things your horse is saying with his behavior"
PDF will be delivered to the email address you enter as will weekly tips from Stacy. Totally free. Unsubscribe anytime.