Did you know that when a foal is born it has no antibodies to fight infection? Human babies get antibodies through the placenta. Horse babies don't.
A foal must nurse to receive antibodies and there is a short time frame in which it must be done.
The mare produces colostrum once during pregnancy; just before she foals. Colostrum is thick and contains immunoglobulins that were concentrated from the mares bloodstream. Within 24 hours of giving birth the milk will change to white.
The foal can only absorb the immunoglobulins from the milk within the first 24 hours. By the end of the 24 hours the foals digestive tract has changed and can no longer absorb colostrum.
While I was visiting Last Chance Corral one of the foals was lethargic and the staff was concerned he may not have received the much needed colostrum. To test the level of antibodies in his blood a snap test is performed. They asked me if I had ever done one….
I don't like blood.
I had not done a snap test but I do like learning. I can draw blood and do many things to keep my horses safe and healthy…I don't like blood. As evidence of how crummy this foal is feeling watch how quietly he stands before, during and after I draw the blood.
Thankfully this little guy had received what he needed. Unfortunately the foal in this photo taken at OSU vet hospital had not. She can be seen here receiving an emergency blood plasma transfusion.
For more information on this check out these websites. IDEXX
Cornell website link to article on snap test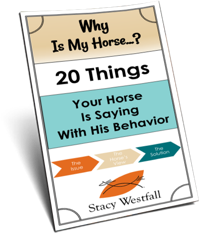 FREE PDF DOWNLOAD
WHY IS MY HORSE...?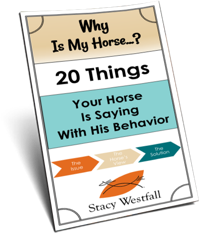 Free PDF Download "Why is my horse...20 things your horse is saying with his behavior"
PDF will be delivered to the email address you enter as will weekly tips from Stacy. Totally free. Unsubscribe anytime.