"Every block of stone has a statue inside it and it is the task of the sculptor to discover it." Michelangelo
When I see a horse I see a piece of art or at least the raw materials. As a trainer it is my job to see beyond the surface and look for the possibilities. Then slowly, over years of training, it is my job to uncover and make visible to others what I have seen.
That is also my job as a parent in a way. When we influence others it can either be in a positive way that uncovers the beauty that we see or it can be in a destructive way that destroys the potential.
Who are you influencing today in a positive way?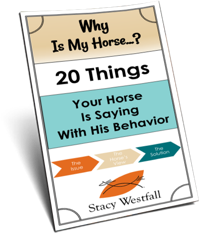 FREE PDF DOWNLOAD
WHY IS MY HORSE...?
No one taught you the skills you need to work through these things.
Riders often encounter self-doubt, fear, anxiety, frustration, and other challenging emotions at the barn. The emotions coursing through your body can add clarity, or can make your cues indistinguishable for your horse.
Learning these skills and begin communicating clearly with your horse.
Click here to learn more.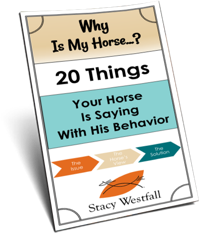 Free PDF Download "Why is my horse...20 things your horse is saying with his behavior"
PDF will be delivered to the email address you enter as will weekly tips from Stacy. Totally free. Unsubscribe anytime.