This is a photo of me hugging Vaquero…I had to look twice to figure it out myself!
You should be able to click on the photo and watch a cell phone recording of the performance from the Quarter Horse Congress on Saturday night. (scrap that…here is a link http://www.youtube.com/watch?v=4YCgsZmjsww
As I was working to get Vaquero ready for the ten days prior to Congress I was paying close attention to the emotions I was experiencing. One that kept coming up was 'why put myself through this?'  what kind of person signs up for the pressure of competing, the long hours of preparing, and the loads of self doubt that pop up?
Thanks to Pam for sharing under the 'Nothing is More Painful than Regret' post the following a quote byTheodore Roosevelt,
"It is not the critic who counts, not the man who points out how the strong man stumbled; or where the doer of deeds could have done them better. The credit belongs to the man who is actually in the arena, whos face is marred by the dust and sweat and blood; who strives valiantly; who errs and comes short again and again…who knows the great enthusiasms, the great devotions and spends himself in a worthy cause; who, at the best, knows in the end the triumph of high achievement, and who at the worst if he fails, at least fails while daring greatly, so that his place shall never be with those cold and timid souls who know neither victory or defeat."
I have been blessed to known failure, defeat, and success. Are you among the dusty, sweaty crowd or the cold and timid?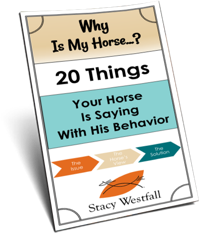 FREE PDF DOWNLOAD
WHY IS MY HORSE...?
No one taught you the skills you need to work through these things.
Riders often encounter self-doubt, fear, anxiety, frustration, and other challenging emotions at the barn. The emotions coursing through your body can add clarity, or can make your cues indistinguishable for your horse.
Learning these skills and begin communicating clearly with your horse.
Click here to learn more.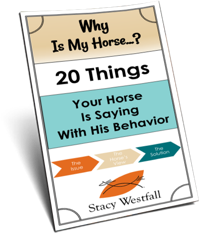 Free PDF Download "Why is my horse...20 things your horse is saying with his behavior"
PDF will be delivered to the email address you enter as will weekly tips from Stacy. Totally free. Unsubscribe anytime.