I started attending a women's bible study using this book "Faithful, Abundant, True".
In the first lesson Kay Arthur made the statement, "God will shake the things that can be shaken to reveal the things that cannot be shaken."
The statement struck me hard because I find comfort in it. It is true that when we are shaken, whether by something simple or something deep, it reveals things.
Maybe you have been shaken by a misunderstanding with someone or by the loss of a job or by a death of a loved one. It is interesting to me that especially the bigger the problem-the more likely we are to rely on our core beliefs.
If I know that to be true in the big things, maybe I can begin to see those same truths in the everyday things.
PS-I think Kay said that the sentiment came from Hebrews…anyone know where?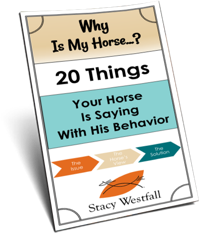 FREE PDF DOWNLOAD
WHY IS MY HORSE...?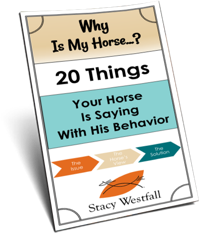 Free PDF Download "Why is my horse...20 things your horse is saying with his behavior"
PDF will be delivered to the email address you enter as will weekly tips from Stacy. Totally free. Unsubscribe anytime.