The world can be a stressful place if you don't know how to recover from challenges. This is true with humans and it is true with horses.
There are two primary ways we can address stressful situations with horses.
We can try to avoid stress
We can teach the horse how to handle stress
Those who chose to try to avoid stress by avoiding situations that could be stressful for the horse will often experience a need to limit where they go and what they do. The world full of possibility shrinks.
It is very possible to teach horses how to handle stress, and in doing so, the horses see fewer and fewer things that they consider stressful. The world of possibility expands and we have the freedom to trail ride, show, ride in large groups or ride alone because the horse is confident in all situations.
Teaching a horse how to see cycles in the training is a key factor in teaching them to handle stress. When the horse realizes that 'emotional pressure' is then followed by a period of rest, they begin to see the 'stress' or pressure as something they can easily deal with.
I teach my horses how to handle stress by using a training cycle. In episode 3, I demonstrated the idea of teaching emotional control including groundwork. In this video, I show the same concept but applied at a horse show.
The training cycles during groundwork are easier to visually see. In my YouTube series, Stacy's Video Diary: Jac, the cycles are very clear during groundwork.
The cycles are still there when the horse is being ridden but they are much more subtle.
In this video, I explain the cycles I took Willow through at her first horse show of the year. Over the three days you can see her shifting into a more confident state of mind because she recognizes the cycles as being very similar to those I use at home and on the trail.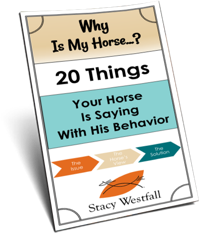 FREE PDF DOWNLOAD
WHY IS MY HORSE...?
No one taught you the skills you need to work through these things.
Riders often encounter self-doubt, fear, anxiety, frustration, and other challenging emotions at the barn. The emotions coursing through your body can add clarity, or can make your cues indistinguishable for your horse.
Learning these skills and begin communicating clearly with your horse.
Click here to learn more.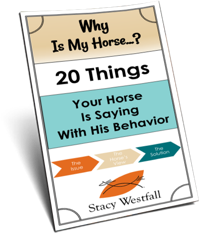 Free PDF Download "Why is my horse...20 things your horse is saying with his behavior"
PDF will be delivered to the email address you enter as will weekly tips from Stacy. Totally free. Unsubscribe anytime.