Presto, the foal I adopted from Last Chance Corral, loves to play with the Weaver Activity balls. He is pretty low in the herd pecking order and the balls do exactly what he says, lol!
In the end…I'm not sure which he likes best. I thought it was funny how he kept switching back and forth…but at the end when he rolled them both…I told him he was a rock star. It made it easier to declare it a tie!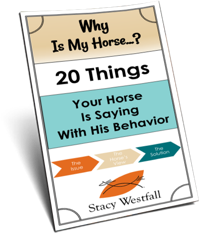 FREE PDF DOWNLOAD
WHY IS MY HORSE...?
No one taught you the skills you need to work through these things.
Riders often encounter self-doubt, fear, anxiety, frustration, and other challenging emotions at the barn. The emotions coursing through your body can add clarity, or can make your cues indistinguishable for your horse.
Learning these skills and begin communicating clearly with your horse.
Click here to learn more.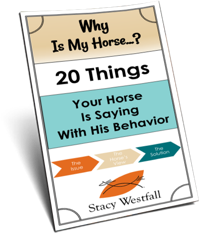 Free PDF Download "Why is my horse...20 things your horse is saying with his behavior"
PDF will be delivered to the email address you enter as will weekly tips from Stacy. Totally free. Unsubscribe anytime.