Question: Do you trail ride your show horses?
Answer: Yes!!!
In this video, I explain some of the reasons I trail ride. I also share how I 'build a bridge' between arena work and trail work.
I explain what I consider 'emotional control training' and show examples in the arena.
Maybe the most interesting clips are where I explain my cue for teaching my horses to stand still.  I don't just hope my horses will stand. I teach them a cue. This is super helpful when I'm in the show pen OR out on the trail. I grew up riding horses that I 'hoped' would stand still. Teaching a cue is much, much better!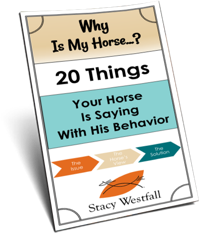 FREE PDF DOWNLOAD
WHY IS MY HORSE...?
Free PDF Download "Why is my horse...?"
20 things your horse is saying with his behavior.
PDF will be delivered to the email address you enter as will weekly tips from Stacy. Totally free. Unsubscribe anytime.