"Stacy, Do you get nervous before you show?"
I always have tension in my body before I show…but sometimes this tension is helpful and sometimes it is NOT helpful.
I want a feeling of positive tension in my body as I prepare. I want to feel ready to go and excited. 
There have been times I have felt apprehensive, hesitant, and doubtful. These are not helpful feelings.
When I start feeling these emotions stirring around in my body, I pause and look at my thoughts. 
When I find the thought that I am thinking, I can tell which emotion I am really feeling. If I find the thought, "I'm afraid I'll make a mistake" I'm probably feeling nervous. If I find, "I show in 1 hour!" I'm probably full of positive tension.
Positive tension is a good thing. It is prepared and ready to go. I enjoy feeling this in many more places than the show ring. This is the very same feeling that allows me to run down the trail on my horse and immediately transition to a nice walk. I understand how to control my emotions under pressure…which in turn, allow me to teach my horse to do the same thing. 
I discuss this feeling in this podcast: https://stacywestfall.com/episode-17-are-you-helping-or-interfering-with-your-horse-when-riding/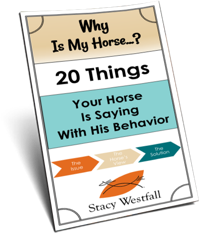 FREE PDF DOWNLOAD
WHY IS MY HORSE...?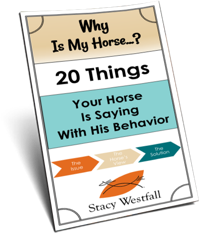 Free PDF Download "Why is my horse...20 things your horse is saying with his behavior"
PDF will be delivered to the email address you enter as will weekly tips from Stacy. Totally free. Unsubscribe anytime.