The following three questions were posted on Weaver Leather's Facebook page in response to the Jac videos:
"How do you teach the horse to accept contact with the bit better? "-Julie H

"How should I go about teaching my mare to put her head down and collect?"-Kaitlin F

"How do you teach a horse to accept more contact with the bit? I am transitioning from Western Riding to English and my old guy is telling me to "give me more rein" constantly (PS: he had his teeth check recently)!" Ildiko M
Teaching the horse to accept the bit comes with challenges. The rider must look at two issues;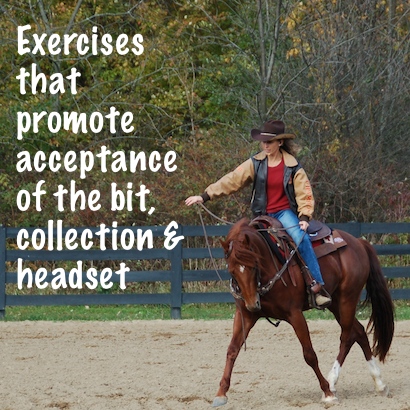 mentally seeing the importance of teaching contact
physically focusing on how you are using your hands
Many riders struggle with the idea of holding steady, light contact with the horses face. I believe this struggle has roots in the idea that we are somehow unfair because we are not releasing quickly. There are two ways that I look at this mental issue. First, in the beginning training of a horse I want to 'hold the horses hand' because it keeps us both safer.
Picture a two or three year old child who is constantly pulling their hand away from their parent as they are walking around a busy parking lot. The child is showing resistance to receiving instruction from the parent and they are also endangering themselves as well as others. The child does not view the situation this way but most adults would.
The horse is not a child and you are not riding in a parking lot. The horse is close to 1,000 pounds and you are on top of them. People have died while riding horses. To keep everyone safe there are times that the horse must allow us to 'hold their hand' for everyones safety.
Later on in the horses training it is also important that the horse allows us to have light, steady pressure if we choose. This is not a punishment for the horse and a horse that is comfortable with the riders hands will show no resistance with the rider making light contact. This contact allows us to help 'shape' the horse and encourage high level performance. Imagine a golf coach instructing a golfers swing, or a football coach instructing a quarterback on his throw or a dancer receiving instruction from a coach. All of these athletes would receive LOTS of advice on the shape of their body. Human-to-human we can speak and explain, or show video to the student and even then the coach will often touch the student and physically show them where their mistake is or where they could improve.
With the horse it is important that they trust the hands and legs of the rider and that they are willing to be shaped and molded by them. This ability of the horse to trust and be shaped is how the training can progress to a high level. A golfer, football player or dancer who isn't willing to receive instruction will not be very successful and neither will a horse who will not receive gentle guidance.
For the rider it is important to remember that your hands must be steady and reliable if your horse is going to trust you or willingly allow you to 'hold his hand.' Most horses lose trust in the riders hands if the rider is either new and lacks coordination to keep their hands steady or if the rider bumps or jerks a lot.
Can you keep your hands smooth and steady? To find out, I recommend that you try either carrying a cup of water or an egg on a spoon as a test. If you want less mess, and an easier tool to practice with, you can check out the Egg and Spoon set I developed with Weaver Leather. I used this tool for years when I was giving lessons.
For physical exercises that will help improve both the horse and the rider, go back and watch the following three episodes of the Stacy's Video Diary: Jac series. Watch how much I focus on keeping my hand steady from the early rides all the way to episode 29. I actually recommend that you watch episode 29 first and study the 'bend and counter bend' exercise and then watch the previous exercises to see how I built to this stage of training. Watch for how steady my hands are and how Jac reflects this steadiness in his face.
Remember also that just like the golfer, football player or dancer it will take repeated practice to build muscle strength and muscle memory. As the horse builds this strength you will also see the horse carrying their body differently including the head being lowered and the body becoming more collected. Can you see how Jac physically got stronger from Episode 18 to Episode 29? Can you see the headset and collection that has been developed?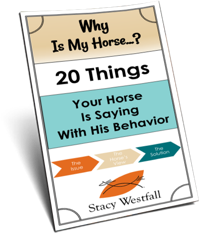 FREE PDF DOWNLOAD
WHY IS MY HORSE...?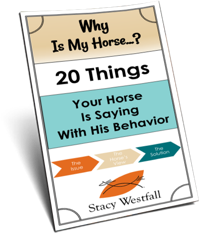 Free PDF Download "Why is my horse...20 things your horse is saying with his behavior"
PDF will be delivered to the email address you enter as will weekly tips from Stacy. Totally free. Unsubscribe anytime.