I wrote a post featuring the quote, "I would travel only by horse, if I had the choice." And received the following comment:
"Yes!!! I keep saying, it would be awesome if someone developed a town that only allowed horse travel in the entire vicinity. If the roads were made for horses (soft), no cars or trucks to think about. All the stores could have hitching rails, or better, small corrals everywhere. Especially if you had lots of stores and restaurants….. oooh, restaurants with horse fare 😉 . Friends houses could have a small stable instead of a garage, unless they owned a ranch, of course. And all the wonderful trainers and clinicians in the world (like Stacy Westfall) would want to live there or visit often and host clinics 😀 Hmmm…. what to call it…. what to call it?-Rebecca"
Good news! I have been to a place very similar to the one you describe…it is called Norco, California! In 2006 Norco began promoting itself as "Horsetown U.S.A" and even trademarked it.
When I visited Norco I was amazed to see that instead of sidewalks made of concrete there were instead, very well maintained dirt paths. Even the paved driveways had this dirt path running through it! Very frequently (maybe every block?) there were pens to turn horses in or places to tie…especially in front of the stores! And the stores….
I have never seen so many tack stores! Huge! And right beside each other!  New, used, consignment stores, you name it…they have it.
A McDonalds with a hitching rail? Cross walk buttons at horse height? A community riding arena? Community round pens?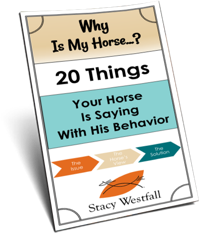 FREE PDF DOWNLOAD
WHY IS MY HORSE...?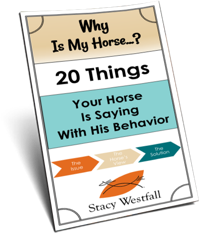 Free PDF Download "Why is my horse...20 things your horse is saying with his behavior"
PDF will be delivered to the email address you enter as will weekly tips from Stacy. Totally free. Unsubscribe anytime.