Two of the things I talked about in this weeks podcast were looking ahead to set your goals and…goal setting.
Sometimes it is beneficial to look at this in reverse.
Look back a year or two and remember what you were thinking, what you were aiming for.
Suggestion: If you keep journals go back and read them. Or look at photos from that time period to jog your memory to who you were back then. If possible, watch some videos from back then.
This is process can help reveal to you some of the patterns in your life and give you clues on how to shape your upcoming year.
Here is a video from early 2019 sharing my goals. The planning process started in January and the video process started in February…with this first video releasing in April.
Even the process of planning, recording, editing and posting was a goal within itself.
What do you dream of accomplishing with your horse someday? Think big and if it helps…think far, far out into the future.
The first time I thought about riding bridle less was TEN YEARS before I actually did it.
Persistent.
Yes.
Although I've also been called stubborn.
But I did it!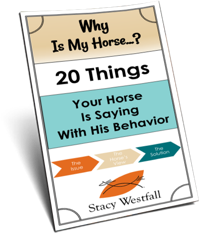 FREE PDF DOWNLOAD
WHY IS MY HORSE...?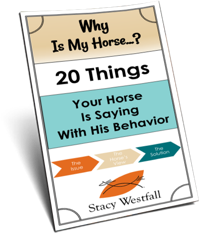 Free PDF Download "Why is my horse...20 things your horse is saying with his behavior"
PDF will be delivered to the email address you enter as will weekly tips from Stacy. Totally free. Unsubscribe anytime.