"Hi Stacy, I was so impressed to see Jac accepting the bit within this short time. With my gelding (12 years old) I have big problems riding him in a snaffle bit. Putting the bit in he opens his mouth wide open and I can see his tongue trying to throw the bit out. While wearing the bit we nearly can't work because he doesn't listen to me, his mind is at the bit. He nearly can't walk a straight line. Do you have any suggestions for me? Sorry for possible mistakes, I am German and I passed school long time ago :)" Alex
One of the first horses I trained was Scrapper. When I was a teen I bred my mare once and Scrapper was the resulting foal. As a sophomore in college I took Scrapper with me to start under saddle and to train. I was learning, Scrapper was learning and I made a lot of mistakes. One of those mistakes was being bad with my hands. When I wanted to turn I moved my hands too quickly and didn't use my legs to help signal.  I failed to plan ahead and tried to maneuver my horse like I would my own body.
My problems transferred to my horse and Scrapper chomped at the bit and was inconsistent with his headset. I was frustrated which made it even harder for me to move my hands slower. I say all of this not because I am proud of it–I am not. I do, however, know what I did wrong and I have built into my program things to fix these common mistakes.
When I demonstrate in Episode 18 that I use only my inside rein while resting my outside rein on the saddle horn -I am breaking a habit. Many people don't know how to properly use the inside rein only for control.
Don't believe me? Try the exercise at 6:50 with your broke horse. Pay attention to your outside hand that should be resting on the saddle horn. Can you feel how that hand wants to 'help'?
That is what breaking an old habit feels like. You should be able to do all of these exercises on any riding horse. Some of the problems will be the horse, some of them will be you.
Go back and watch Episode 21…23 and 24 and the rest of the riding episodes – pay attention to my hands and Jac's mouth. You will be able to see other tips and methods I use to break habits and retrain bodies and minds of both riders and horses.
Alex, the episode you were asking about, Episode 13, shows Jac quickly accepting the bit and achieving a quiet mouth.  Most young horses will accept the bit quietly when using these methods. If they don't the first thing I look at is physical issues: sharp teeth, need chiropractic, etc.
Many older horses have experienced the mistakes I described with Scrapper. These are training issues and may have also become habit. Check for physical issues by consulting an equine dentist and vet. If the pros find nothing wrong and you believe it could be mistakes like the ones I made with Scrapper, don't lose hope.
Scrapper's story did have a happy ending. After two years of improving myself and retraining Scrapper you would never have known he had once been so busy with his mouth. Retraining would involve going through ALL of the steps shown in the Stacy's Video Diary: Jac episodes, not just the ones you think apply to your problem, all.
Prevention, as I show with Jac, is the best but retraining yourself and your horse will have its own rewards.
As always…when having issues with the bit please check the horses teeth as shown in Episode 19.
P.S.- I once trained a horse that had no tongue… long story but the short version is that it had been bitten off very short. Even that horse was fine in a bridle…remind me to write that blog sometime…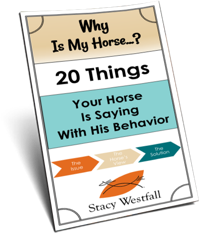 FREE PDF DOWNLOAD
WHY IS MY HORSE...?
No one taught you the skills you need to work through these things.
Riders often encounter self-doubt, fear, anxiety, frustration, and other challenging emotions at the barn. The emotions coursing through your body can add clarity, or can make your cues indistinguishable for your horse.
Learning these skills and begin communicating clearly with your horse.
Click here to learn more.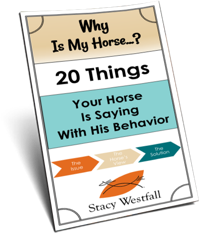 Free PDF Download "Why is my horse...20 things your horse is saying with his behavior"
PDF will be delivered to the email address you enter as will weekly tips from Stacy. Totally free. Unsubscribe anytime.