Each horse is an individual and each one, like each person, has their own path. Deciding to collect and freeze semen from Jac is a process I have never been a part of before. When Greg (he owns Jac) and I were discussing the possibility there were many reasons to consider freezing;
something could happen to Jac; unexpected death like Roxy
the decision could be made to sell Jac; Jac's older brother was sold and is overseas and  showing VERY well
Jac could end up being gelded; then he could be turned out with more horses
Greg checked around and found the experts at Select Breeders Services Southwest Aubrey, Texas.
When we took Jac over to SBS everyone was great. Debbie McPherson and Sharon Miggans gave me a tour and answered all the questions I had for them. I was shown where Jac would stay, was questioned about his feeding and was also able to choose his exercise while he stayed there. They also showed me where the frozen semen is stored and explained the process from collection all the way to shipping to the mare owner.
One of my questions was 'how long can the semen stay frozen for and still be used?' The answer is that if it is stored properly…nearly unlimited time. I probably should have spent more time on their FAQ page as the answers to most of my questions can be fount there.
After my tour Debbie and Sharon introduced me to Patrick Rollins and the three surprised me by offering to go ahead and collect Jac!
I had accepted the idea that I was just going to drop Jac off and wouldn't be able to see any of the process. To say that I was excited would be an understatement! The technology is amazing. The initial numbers with Jac looked good and since the video was made they have continued to collect and test. Select Breeders has now determined the best extender to freeze Jac's semen in and they have collected enough to breed approximately 18 mares, someday in the future.
Jac stayed in Aubrey, Texas while we returned to Ohio. It was a bit strange leaving Jac but after completing our tour I was completely comfortable knowing he was in great hands.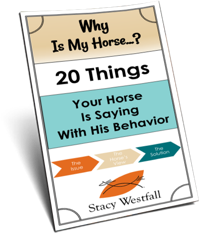 FREE PDF DOWNLOAD
WHY IS MY HORSE...?
No one taught you the skills you need to work through these things.
Riders often encounter self-doubt, fear, anxiety, frustration, and other challenging emotions at the barn. The emotions coursing through your body can add clarity, or can make your cues indistinguishable for your horse.
Learning these skills and begin communicating clearly with your horse.
Click here to learn more.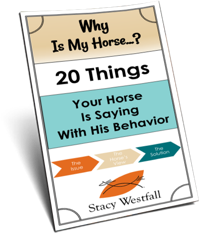 Free PDF Download "Why is my horse...20 things your horse is saying with his behavior"
PDF will be delivered to the email address you enter as will weekly tips from Stacy. Totally free. Unsubscribe anytime.