This story was posted yesterday on Facebook on Laine Smith's page (https://www.facebook.com/memorylaines) and it is a must read. 
It seems that Laine stopped at a gas station and saw a horse…and a possible story. He has no cell phone, no map and he has been living horseback for over 25 years!
The best part of the story is all of the people who have helped him over the years. When he had all of his tack stolen, someone replaced it for him.
Laine hasn't had time to add the story to her main website but she does have it posted on her page. Out of respect I am not reposting her entire writing but instead encouraging you to visit her site and read it.
I just got off the phone with Laine. I called to be sure it was ok that I shared her story and she told me that she was headed to to meet Jeremiah again. It seems his cinch broke and his boots are getting a bit worn and Laine's going to see how she can help. And she's going to talk more.
Here is a true nomad…maybe I will get to spend some time with him down the road!
P.S.-If you don't have Facebook so you can't read the story, leave a message here and I will share the link to her other site when it is ready.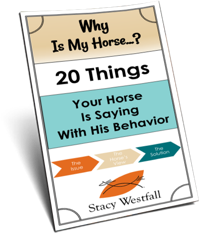 FREE PDF DOWNLOAD
WHY IS MY HORSE...?
No one taught you the skills you need to work through these things.
Riders often encounter self-doubt, fear, anxiety, frustration, and other challenging emotions at the barn. The emotions coursing through your body can add clarity, or can make your cues indistinguishable for your horse.
Learning these skills and begin communicating clearly with your horse.
Click here to learn more.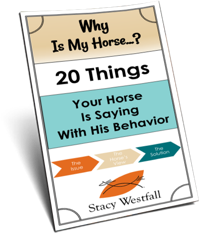 Free PDF Download "Why is my horse...20 things your horse is saying with his behavior"
PDF will be delivered to the email address you enter as will weekly tips from Stacy. Totally free. Unsubscribe anytime.