"Stacy-Do you suggest only attempting sliding, short sliding, stops with horses bred for reining? Or, can most quarter horses slide short distances…and if so how do you teach the horse to get his hind legs under him for better stops?- Georgia D."

*                                  *                                  *
Georgia, Each horse will vary in ability to perform the sliding stop. 'Stock' horses, QH, Paints, Appaloosas are more well known for this but many breeds can perform some form of sliding stops. The Arabian shows are promoting reining and many Arabs are participating. I have seen Morgans, Halflingers and others that could slide. Some horses are built for the slide to be easier for them and some mentally want to slide more than others.
A strong example comes from someone who at one time had the same question. Let me introduce you to Susan and Chloe. Susan had similar questions but read below what she 'discovered.'  Susan's horse is Chloe. Chloe is half paint and half saddlebred. Susan did all of the 'whoa' training by following my DVD's. She says, "I particularly
like your Whoa video
on this stopping subject. (and your explanation that) A horse should stop with all three cues and each one work individually100 % of the time."   The following is written by Susan:
*                     *                                   *                                  *
"Chloe stops are fabulous!  I have had people ask me how did you get her to do that!  Of course I let them in on my secret, Stacy Westfall lives in my down stairs bathroom.  Let me explain….  Prior to Chloe being broke to ride I spent 1 1/2 years on ground work, watching and re-watching your video's.  Every Saturday and Sunday I would get up go down stairs and pop in one of your video's.  My husband every weekend would hear you downstairs over and over and as he put it "I thought Stacy Westfall lived in our downstairs bathroom"

Funny!  Anyway please stop by anytime and I explain to everyone how I got Chloe so lite and responsive is by watching your videos over and over.-Susan"
Check out this video of Chloe sliding. The rider is Brittany Ray, Susan's friend. Susan and Brittany both attended a clinic with Stacy together:)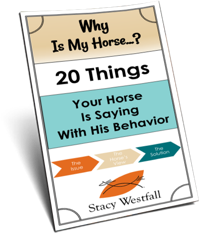 FREE PDF DOWNLOAD
WHY IS MY HORSE...?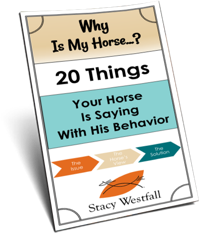 Free PDF Download "Why is my horse...20 things your horse is saying with his behavior"
PDF will be delivered to the email address you enter as will weekly tips from Stacy. Totally free. Unsubscribe anytime.