Jac ran into another physical issue; he ate some form of plant that caused sores in his mouth. The first suspect was foxtail, which is a grass that can get baled into hay.
The vet biopsied the sores and confirmed that the sores were caused by plant material although they were unable to determine if it was foxtail or one of several other plants that can cause the same issue.
Getting all of the small particles out of a horses mouth is not easy. Some could be removed by the vet but others had embedded like little splinters. The vet removed some of the embedded plant material. He also recommended washing his mouth out daily for awhile and we switched the hay.
The healing had to run its course and I ended up losing about a month of training time while allowing Jac's mouth to heal. I have been planning on showing Jac at some of the bigger shows at the end of the year but a set back like this could change the plan.
I already know that I am unwilling to add extra pressure to Jac for him to 'catch up' in his training. I will still allow Jac to set the pace of the training and things will either come easy for him or they will not and I will scratch from the shows.
Issues and decisions like this one are part of the process I was hoping to show by following Jac. The training, just like life, always has its ups and downs.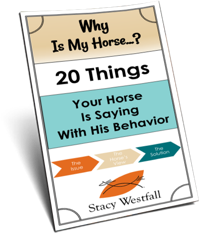 FREE PDF DOWNLOAD
WHY IS MY HORSE...?
No one taught you the skills you need to work through these things.
Riders often encounter self-doubt, fear, anxiety, frustration, and other challenging emotions at the barn. The emotions coursing through your body can add clarity, or can make your cues indistinguishable for your horse.
Learning these skills and begin communicating clearly with your horse.
Click here to learn more.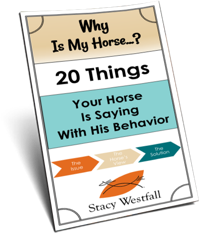 Free PDF Download "Why is my horse...20 things your horse is saying with his behavior"
PDF will be delivered to the email address you enter as will weekly tips from Stacy. Totally free. Unsubscribe anytime.