I took my shiny, new belt buckle and…egged it.
No, I didn't actually touch the egg to the silver…what a mess that would be…but I did use the egg to age the silver.
Here is the before and after shot of the buckle:
When I was working with Wende from Gist Silversmiths, the maker of the buckle, I explained that I wanted both an aged look and crystals. As we discussed the options it was decided that the best way to get the look I was after was to add the sparkle and then let the buckle age. I have won many buckles over the years and I knew that they do age…but it takes awhile. Months even.
When I received the buckle this week I really liked it but was feeling a bit impatient about the aging process. Enter Google.
The first website suggested putting bleach on the buckle…a little to aggressive for me. The second website mentioned using an egg and my first thought was 'what a mess!' but also very natural. I mean, really, I could possibly spill egg down my front while wearing the buckle. I suppose I could spill bleach down me too but I rarely wear my belt buckle while doing the laundry…anyway.
The website went on to say that the egg didn't even have to come into contact with the buckle. Basically the buckle was just going to be sealed into the same bag as the egg and the chemicals in the egg would react with the chemicals in the metal. This was getting easier to explain to Gist if it went really wrong (I was thinking of you Wende:)
The first time I used a cold, hard boiled egg. An hour later nothing.
Upon re-reading the site and some others it seemed that a hot egg would make this go faster. Oh, buddy did it go faster!
Two, still hot, hard boiled eggs and a half an hour later look at the change! I almost panicked a bit (thinking of you again Wende)
From what I read the process can be repeated or time can be added if you want a darker look. I decided to stop where I was for now. I will be wearing it and normal wear will continue to add to the depth.
I finally called Wende at Gist to both thank her for how beautiful the buckle turned out and to confess about speeding things up. After a good laugh (egg is not in their recommended care items) she told me I could use a polishing cloth to shine the high spots if I wanted. I did and I love how it turned out.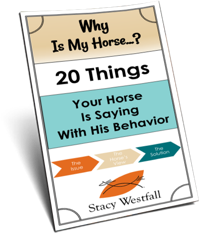 FREE PDF DOWNLOAD
WHY IS MY HORSE...?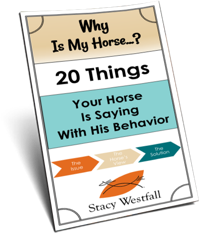 Free PDF Download "Why is my horse...20 things your horse is saying with his behavior"
PDF will be delivered to the email address you enter as will weekly tips from Stacy. Totally free. Unsubscribe anytime.