"Thanks so much Stacy for your honesty about what really happens! I really enjoy reading your blogs:) Could you have used a bosal instead of a bit for some of his training?
Happily following you from Williams Lake, BC, Canada-Jen"
Jen- If you watch the video you will see that I did ride Jac a few times in a bosal. I mentioned in the video that I still thought it irritated him but I will go into more detail here.
There are two issues here; physical and mental.
Physically, at least early on, there was still evidence that Jac's mouth was irritated, even without a bit. When ridden his saliva was occasionally tinged with blood. I don't know for sure if the riding irritated his mouth; breaking at the poll requires the lower jaw to slide forward. Maybe his mouth was irritated in the stall or in the run too…I don't know for sure. I stopped poking around all the time because it bothered him I wanted to let it heal.
Mentally, because I didn't know if riding was irritating him, it became a mental problem for me.
Sigmund Freud once stated, "A man with a toothache cannot be in love."
Oddly enough, maybe the best way to say it is, I felt guilty riding him. Guilty because I could be causing him discomfort. The idea that I might be unfair in still riding him changed the way I felt about riding him. The problem with feeling guilty is that you ride like you are guilty.
When I ride I know that there is a mental connection. I am always training the mental as well as the physical horse. If I make Jac push through the pain will he respect me for it? If I disrespect the horses feelings here, can I expect him to give me his 'extra' when it really matters?
How do you earn love and respect from a horse?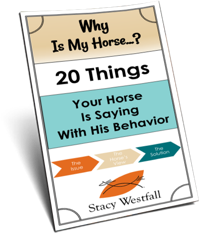 FREE PDF DOWNLOAD
WHY IS MY HORSE...?
No one taught you the skills you need to work through these things.
Riders often encounter self-doubt, fear, anxiety, frustration, and other challenging emotions at the barn. The emotions coursing through your body can add clarity, or can make your cues indistinguishable for your horse.
Learning these skills and begin communicating clearly with your horse.
Click here to learn more.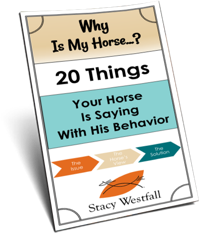 Free PDF Download "Why is my horse...20 things your horse is saying with his behavior"
PDF will be delivered to the email address you enter as will weekly tips from Stacy. Totally free. Unsubscribe anytime.