Total training time 14 hours 30 minutes
In this video I review;
Bending to stand still:
Jac is learning to bend with the bridle on with the snaffle bit. Bending to stand still is important to keep both of us safe. Jac needs to get these answers correct 100% of the time. This is an exercise that also teaches a horse to stand still when a rider is mounting. 
Sacking out using the saddle:
Sacking out using the saddle stirrup is a great way to cause an emotional reaction to sudden movements where the saddle or rider would be. I do it in a way that I can control and repeat until Jac is quiet. I am also getting Jac accustomed to the ropes that I will use as ground driving reins in Episode 17.
Shifting gears:
Jac demonstrates at 5:38 that the 'training cycles' described in Episode 13 are having an effect on his mind. Jac shows that he has learned that when he mentally 'shifts gears' is when I reward him…so he begins to 'act quiet' when he wants to get done.
Bend to stand still and put foot in the stirrup:
For both of us to stay safe Jac needs to figure out how to balance while I step up in the saddle. Jac also needs to be willing to stand with his head bent while I step up and down.
The funniest part of the video is when Jac is following me up-down-up-down-up-down as I begin to mount…silly boy!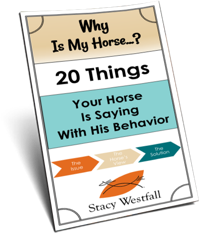 FREE PDF DOWNLOAD
WHY IS MY HORSE...?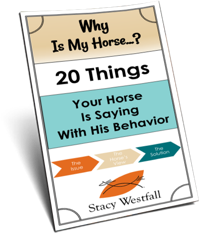 Free PDF Download "Why is my horse...20 things your horse is saying with his behavior"
PDF will be delivered to the email address you enter as will weekly tips from Stacy. Totally free. Unsubscribe anytime.