"Thank you for opening up your horse world to us.  You are so insightful but mainly I enjoy your passion.  I find sometimes that is what people are either missing or lose along the way.  I am 43 and have loved horses since I was a wee fetus.  I lost my gelding awhile back and he was my Roxie to you.  Hope I find that again someday.  Thank you again and God Bless."
Tanya,
Thank you for taking the time to write to me! I am very touched to hear that my passion is coming through. Sometimes it is hard to tell on the internet.
I truly hope you find another horse to help you again. It is hard and will never be exactly the same. But thats OK…no two snowflakes, horses, or people are either.
Ride with Faith,
-Stacy Westfall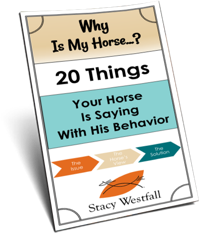 FREE PDF DOWNLOAD
WHY IS MY HORSE...?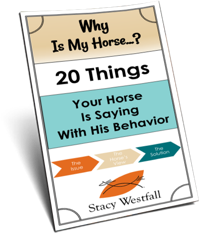 Free PDF Download "Why is my horse...20 things your horse is saying with his behavior"
PDF will be delivered to the email address you enter as will weekly tips from Stacy. Totally free. Unsubscribe anytime.