You may have noticed over the last few weeks that I have a weakness for minis! With all of the photos that I posted involving my minis I have received quite a few questions involving training them. The main question being this; is the training the same as training a 'big' horse?
For the most part, the answer is yes.
I found that the mini was ideal for my boys to learn more about handling a 'difficult' horse without being intimidated. They had experience with well trained horses but had not experienced horses who didn't always do what they were asked immediately.
Joshua decided that he wanted to buy a mini and train it as a project. We searched and searched and eventually found a mini that an Amish man was selling. She was skinny (quite a feat with a mini) and covered in rain rot…with a broken halter hanging from her head. And she was cheap.
We talked with Joshua about his goals and about the fact that she would be quite a project. We even suggested that maybe he should consider one that was more quiet. But he liked the idea that this mini needed help. She needed training, which was something he wanted to do, and the training would improve her quality of life. His goals were; to learn to train, to improve the quality of one horses life, and to sell, hopefully for a profit.
This video is the end result of Joshua's hard work. He named the mini 'Rue' after the character in The Hunger Games.
One lesson that Joshua learned, which he hadn't bargained for, was the most difficult one; selling is hard. When Rue's training was done it was neat to hear that Joshua's third goal became very, very low on his agenda. His highest priority was finding her a loving, permanent home. With careful screening and teary eyes he managed to find her a forever home. The new owners even sent us pictures of her with braids and ribbons in her hair.
The experience was a win-win-win. Joshua won by learning so much, Rue won by becoming an educated equine which will ensure her future, and I won by helping my son experience life with all of its ups and downs.
P.S.-My youngest son took the photos and my oldest edited the video together also:)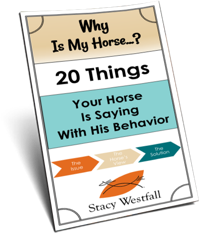 FREE PDF DOWNLOAD
WHY IS MY HORSE...?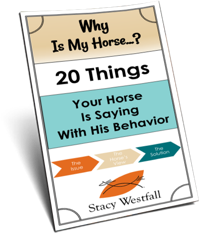 Free PDF Download "Why is my horse...20 things your horse is saying with his behavior"
PDF will be delivered to the email address you enter as will weekly tips from Stacy. Totally free. Unsubscribe anytime.