Growing up my mom taught me well.
We always headed to the barn FIRST because the animals relied on us. Sometimes we would hang a stocking…tricky if you have a clever horse. Other years there were apples and carrots to go around. I remember saving my money one year to buy the special horse treats with the peppermint in them from the local tack store.
Do you have a tradition you would like to share?
Do you hang a stocking for your horse? Your other animals? Bake horse cookies? Have a recipe to share? Merry Christmas to you…. and your animals!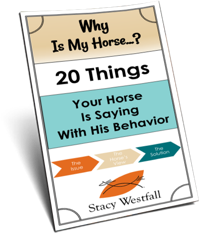 FREE PDF DOWNLOAD
WHY IS MY HORSE...?
Free PDF Download "Where is my horse...?"
20 things your horse is saying with his behavior.