Total training time 10 hours
Step six is pretty strange….
In this video I show seven steps that I do before saddling. Each horse is an individual and this list should be added to or modified to best fit the horse. You will hear how I modified the saddle recently for a filly.
1) I review using a rope around Jac's belly to prepare him for girth pressure, do you see the improvement?
2) I introduce the bareback pad which also involves cinching up for the first time.
3) I use the Weaver Activity Ball to prepare Jac for the stirrups bouncing on his sides. I also teach Jac to stand still for saddling.
PLEASE NOTICE THAT JAC STANDS WILLINGLY BECAUSE HE UNDERSTANDS HE HAS A CHOICE
4) I ground tie Jac and rub the saddle on him
5) I saddle without the pad and without the girth from both sides
6) I pull the saddle off – letting it fall to the ground while standing still and moving
7) I saddle and tighten the girth
8) I move Jac on the lunge line saddled for the first time. Watch Jac's body language. He is looking to me the whole time for guidance. He isn't scared but he is experimenting with the saddle. He still responds to every request which is what keeps him safe.
9) I end by teaching him bending to stand with the halter…while saddled.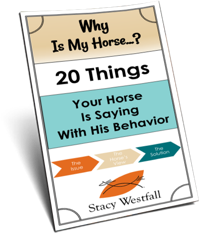 FREE PDF DOWNLOAD
WHY IS MY HORSE...?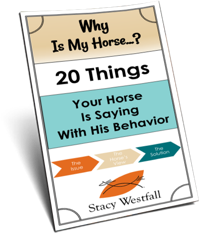 Free PDF Download "Why is my horse...20 things your horse is saying with his behavior"
PDF will be delivered to the email address you enter as will weekly tips from Stacy. Totally free. Unsubscribe anytime.