I need your opinion, will you participate?
If my training DVD's were available to stream online would that interest you? It would be like renting, or buying, a movie online…the videos would not be mailed to you.
Please leave your feedback, or experience with this type of thing below in the comments.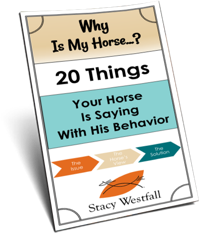 FREE PDF DOWNLOAD
WHY IS MY HORSE...?
Free PDF Download "Where is my horse...?"
20 things your horse is saying with his behavior.