If there is a break through episode…this is it! This is the second day of training and you can watch Jac 'shift
gears' mentally…and physically.
Let me explain the time codes here.
Each episode begins with the total training time to date.
At the beginning of Episode 1, I had never touched him-so it says zero hours. At the beginning of Episode 2, it says 20 minutes, because that is how long I really had him out in the arena for the evaluation….even though it got edited to just under seven minutes long (episode 1).
I am working on some graphs that I will share in the future to illustrate how much training time Jac is receiving each day. Tracking the time is one of my favorite features of this series because it is time spent, not years of life, that determine how well trained a horse becomes. And there is a balance.
So, one hour into Jac's training with me he has a breakthrough moment.
Is everything perfect after this? NO, but you can see that Jac begins to realize that I might have something to offer.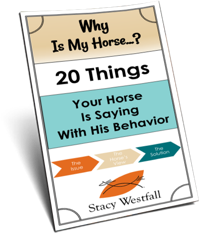 FREE PDF DOWNLOAD
WHY IS MY HORSE...?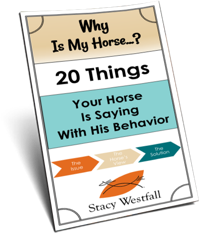 Free PDF Download "Why is my horse...20 things your horse is saying with his behavior"
PDF will be delivered to the email address you enter as will weekly tips from Stacy. Totally free. Unsubscribe anytime.