The second day Jac decided to test ME! Standing on his hind legs, turning and leaving was one way he tried.
Later on, in this same lesson, he threatens (2:40) and I mention it. It is pretty minor but you will see it again in episode 4 where it looks more like a charge (see episode 4, at 1:20).
I cannot emphasis enough how important it is to see these 'little' questions that the horses ask. Just as it is easier to correct a child sooner- rather than later- the same is true when establishing a relationship with a horse.
You will hear me mention things about stallions…but I have trained many geldings and mares with the same symptoms too. It just so happens that most stallions will test in these ways and you can hear my awareness.
During this day, which is episode 3 & 4, Jac has his break through moment, so watch carefully there is a LOT happening here.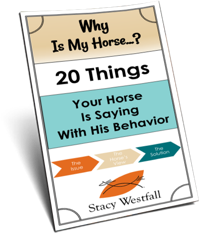 FREE PDF DOWNLOAD
WHY IS MY HORSE...?
No one taught you the skills you need to work through these things.
Riders often encounter self-doubt, fear, anxiety, frustration, and other challenging emotions at the barn. The emotions coursing through your body can add clarity, or can make your cues indistinguishable for your horse.
Learning these skills and begin communicating clearly with your horse.
Click here to learn more.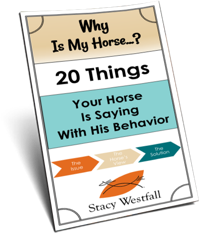 Free PDF Download "Why is my horse...20 things your horse is saying with his behavior"
PDF will be delivered to the email address you enter as will weekly tips from Stacy. Totally free. Unsubscribe anytime.